Indie Craft Bazaar: Let It Sew @ Revolution
I am very excited for my last event of 2011 to be at Indie Craft Bazaar's Let it Sew at Revolution! I will have some new items as well as some SALE items (got to make room for the new stuff I am making!) so please come out and do your last minute gift shopping here instead of the dreaded mall! Support your local artists, craft stars, musicians and food vendors and give your loved ones something unique and handmade! You may even score something amazing for yourself! 😀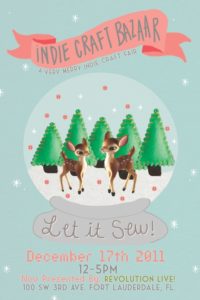 ** Indie Craft Bazaar will now be presented INDOORS at Revolution Live in Fort Lauderdale, Fl! **
The address is 100 SW 3rd Ave. Fort Lauderdale, Fl. This is just South of Broward Blvd and North of Himmarshee. From 95, you will head east, and just before the Andrews train tracks, it will be on your right hand side
Come get festive with us on December 17th, 2011 from 12-5 PM for Indie Craft Bazaar: Let It Sew!
A very merry indie craft fair!
+ 60+ Artists and Crafters selling handmade,… vintage, repurposed, recycled and vegan goods!
+ DIY Interactive Crafty Stand!
+ FUNBooth Photobooth and Props with Penelope Lane!
+ Henna Tattoos, Tarot Card Readings and Feather Hair Extensions!
+ FREE raffle ticket with entry for hourly handmade giveaways!
+ Full Cash Bar!
+ Tons of food, snacks and sweets! (With Vegan options, too!)
+ Perfect place to make friends, mingle, network and promote!!
$5 Entry / FREE Parking Lot (Limited Spaces!)
**FREE SWAG BAGS FULL OF GOODIES FOR THE FIRST 100 GUESTS!**
Leave a Reply
You must be logged in to post a comment.